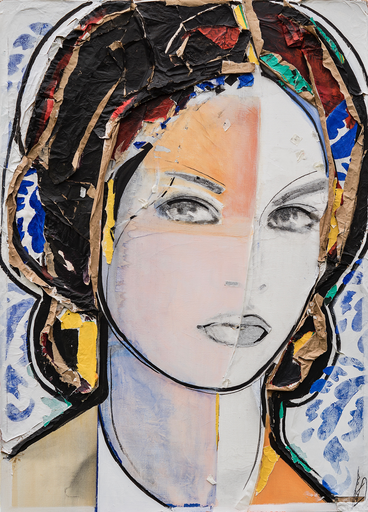 Tel: 0032479796189
paulusseningrid@gmail.com
Nederlands tekst onderaan



After graduating, Ingrid Paulussen has focused on portraiture for 25 years.
The current three-dimensional portraits were created after a long search with different materials.
The freedom of Picasso and the "cut outs" of Hendri Matisse gave her the inspiration to work on,
 the painted portrait with paper.
The addition of (recycling) paper to her portrait feels like an enrichment and liberation for her.
The three-dimensional character creates a fascinating mixture between painting and sculpture.
The works exude beauty.
Characteristic of her portraits is the paper line that runs through the face.
This paper line is an ode to Matisse, but also a line that stands for symmetry, beauty and transience.
The use of paper on the painted portrait creates a visible skin, a skin that stands for transience.

According to her own words, Ingrid Paulussen discovered her own femininity only after she was twenty.
Before that, Ingrid was previously a boyish young woman; for the adventurous.
The relatively late discovery of her own femininity ensured a high degree
of awareness of the power, mysticism and vulnerability of women.
But also her power to seduce.
Ingrid Paulussen investigates femininity in her portraits. Who do you want to be what do you want to propagate ?!
This results in three-dimensional portraits of women that balance between figuration and abstraction.
Beauty is Enjoying / Enjoying the beauty
Ingrid Paulussen heeft na het afstuderen zich gedurende 25 jaar toegelegd op de portretkunst.
De huidige driedimensionale portretten zijn ontstaan na een lange zoektocht met verschillende materialen.
De vrijheid van Picasso en de "cut outs" van Hendri Matisse gaf haar de inspiratie om op het geschilderde portret met papier te gaan werken.
De toevoeging van (recycling) papier aan haar portret voelt als een verrijking en bevrijding voor haar.
Door het driedimensionale karakter ontstaat er en fascinerende mengvorm tussen schilderij en sculptuur.
De werken ademen schoonheid uit.
Kenmerkend voor haar portretten is de papieren lijn die door het gezicht loopt.
Deze papieren lijn is een ode aan Matisse, maar ook één lijn die staat voor symmetrie, schoonheid en vergankelijkheid.
Door het gebruik van papier op het geschilderde portret ontstaat er een zichtbare huid, een huid die staat voor vergankelijkheid.
Volgens eigen zeggen ontdekte Ingrid Paulussen, pas laat na haar twintigste, haar eigen vrouwelijkheid.
Daarvoor was Ingrid eerder een jongensachtige jonge vrouw; in voor het avontuurlijke.
De relatief late ontdekking van haar eigen vrouwelijkheid zorgde voor een hoge mate
van bewustzijn van de kracht, de mystiek en de kwetsbaarheid van de vrouw.
Maar ook haar kracht om te verleiden.
Ingrid Paulussen onderzoekt de vrouwelijkheid in haar portretten. Wie wil je zijn wat wil je uitdragen?!
Dit resulteert in driedimensionale vrouwenportretten die balanceren tussen figuratie en abstractie.
Schoonheid is Genieten / Genieten van de schoonheid